WinWedge
WinWedge easily collects data from balances, gages, meters, sensors, micrometers, barcode scanners, GPS, PLCs, analyzers and other measuring devices and laboratory instruments. It inputs the device data directly into Excel, Access, LIMS, MMIs, Medical Systems or any Windows application or web page.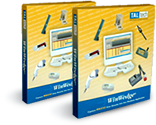 WinWedge can easily parse, filter and format your device data to your needs. The data is automatically input into your Windows applications (i.e. Excel).
WinWedge can also transmit prompts or commands out the serial port to control your instruments. Think of WinWedge as an easily customizable serial I/O device driver.
Winwedge comes in both Professional and Standard versions. Visit our feature comparison page for details or call us at 800-722-6004 to ask which version will work best for your needs.
Input serial data from any device, even many devices, directly into any Windows application (i.e. Excel).
Easily eliminate manual data entry for any instrument you can connect to your PC (RS232, TCP/IP, USB).
Create graphs in your application that automatically update with real-time device data.
Perform real-time analysis of your device data in any application.
Create buttons or "Hot Keys" that control WinWedge and/or your device.
Setup is as Easy as 1-2-3
1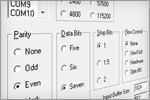 Connect your device to the COM port on your PC and select the communications parameters (i.e. baud rate) in WinWedge.
2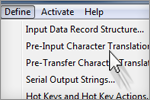 Easy, walk-through menus allow you to tailor the data to your needs by splitting the data into fields, filtering the data and formatting. Setup output strings to send to your device if needed.
3
Activate WinWedge and watch the data from your serial devices "pop" into the Windows application you select, such as Excel (shown here). You can even input the device data directly to graphs or do real-time analysis on it.

Compatible Devices
WinWedge is compatible with a wide range of devices, including… (view all)
Balances
Gauges
Meters
Micrometers
Scales
Barcode Scanners
Temperature Sensors
GPS Receivers
Calipers
Hier geht es weiter
Wir können Ihnen dieses Produkt zur Zeit leider nicht anbieten.
Bitte kontaktieren Sie uns für weitere Informationen. Wir beraten und unterstützen Sie gerne.
Was sagen unsere Kunden über uns?
I have now followed your (very clear!) instructions and am happy to report that my problem is solved. Magic! You have made me a much, much happier person!
CS, Reading, UK
Both days were time and money well spent
PA, Glenrothes, UK
Thank you so much for your help in this matter. I can now get on with my work without obstructions. I am very grateful and cannot sing your praises enough.
Download Support
Very happy with the service. Very professional staff and always helpful.
UO, Athlone, Ireland
Zur Zeit ist es uns leider nicht möglich die folgenden Produkte anzubieten. Wir arbeiten jedoch daran Ihnen ein möglichst vielfältiges Produktsortiment zur Verfügung zu stellen. Bitte kontaktieren Sie uns wenn Sie Fragen oder Anregungen haben.