TCP-Com
TCP-Com is RS232 Serial to TCP/IP converter software (i.e., a Serial Server). You can easily interface serial ports directly to TCP/IP or UDP networks. TCP-Com can ALSO redirect Ethernet/IP data to real or "Virtual" RS232 serial ports. This allows you to use existing Windows-based serial RS232 communications software to send and receive data across any TCP/IP network.

TCP-Com software is extremely simple but powerful. It can be used to solve a wide variety of device interfacing and RS232 or TCP/IP conversion problems, such as the following:
Turn a PC into a Serial Device Server (Terminal Server).
Send or receive data over a TCP/IP port with any serial communications program.
Open COM ports located on another computer in your network as if they were local.
Use Ethernet network (or the Internet) as a giant serial RS232 cable (Serial Tunneling).
Use TCP-Com to feed data from one physical RS232 port to multiple RS232 serial communications applications.
Use TCP-Com to map a TCP/IP port to a different TCP/IP port.
A Serial Device Server (Terminal Server) is a hardware device that connects a serial instrument (balance, meter, barcode scanner, PLC, etc.) to Ethernet and provides an I/O path to the device through an IP port. TCP-Com performs the same function as Serial Device Server except it is a software program that runs on any Windows PC and uses the serial ports installed in that PC (up to 256) and the PC's exiting TCP/IP network connection.
If you have an RS232 device connected to a com port on your Windows PC you can only connect to that com port with one software application. If you need to communicate with that device (com port) from 2 Windows applications you would have to use a "splitter cable" to make the RS232 data come in on 2 separate com ports. This would also require you to purchase another com port.
Interestingly you can actually use TCP-Com to make the RS232 device data on the one com port apprear on as many virtual com ports as you need. In this way TCP-Com acts as Virtual Serial Splitter, or "Y", Cable and allows all your Windows serial communications applications to access a device on just one com port! See diagram, above, for how it works.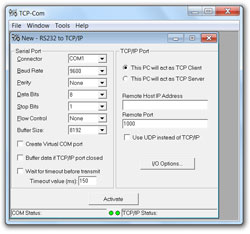 Intuitive Interface
In the TCP-Com window just select the com port number and the serial communications parameters for your serial device and enter an IP address and a socket number. Then activate! It's that easy! Com port data will appear at the IP address and data from an IP port will appear at a real or virtual com port.
Hier geht es weiter
Wir können Ihnen dieses Produkt zur Zeit leider nicht anbieten.
Bitte kontaktieren Sie uns für weitere Informationen. Wir beraten und unterstützen Sie gerne.
Was sagen unsere Kunden über uns?
You have set a benchmark standard that many other companies should aspire to.
JS, Chippenham, UK
Bob worked tirelessly over many hours (and days!) to try to resolve the issue. His efforts were truly appreciated on my behalf. He was polite, caring and nothing was too much trouble. Many, many thanks Bob.
JO
The training session has been invaluable. Your expertise and your patience are exemplary. It cannot be easy to teach a 75 year old new tricks but you have done so with the utmost understanding. The software is extraordinarily powerful: you have explained how to use it in simple and understandable terms.
SF
This was an excellent course which I feel sure will be extremely useful. I will certainly recommend the course to others. Tutor made the course very enjoyable. A born teacher – superb communicator
HP, Evesham, UK
Zur Zeit ist es uns leider nicht möglich die folgenden Produkte anzubieten. Wir arbeiten jedoch daran Ihnen ein möglichst vielfältiges Produktsortiment zur Verfügung zu stellen. Bitte kontaktieren Sie uns wenn Sie Fragen oder Anregungen haben.